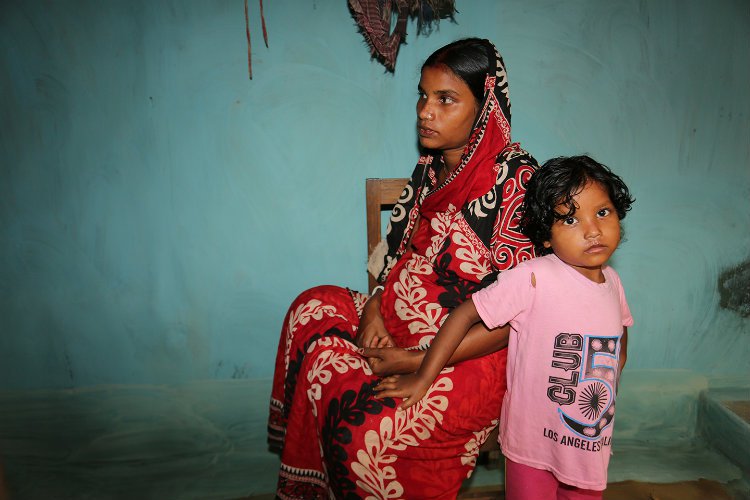 Tea workers: The women's tale
Mina Tati (22) is nine months pregnant and still working in the tea gardens. This is her second pregnancy and when asked, she could not answer what family planning meant. Seven days before interviewing her on October 27, she fell down at her home but the garden compounder gets angry when she tries to take sick leave. He saw her picking spinach leaves in her garden during a sick leave before and questioned her integrity, "If you can pick spinach leaves then why can't you come to the gardens to pick tea leaves?"
Mina Tati has to climb up tall hillocks to pick tea leaves in Hossainabad Tea Garden in Sreemangal upazila of Moulvibazar district. "My mother and I work together in the garden. She helps me wrap the picked tea leaves with pati gamcha to carry them to the weighing machine after work. It is very difficult for me to climb up and down the hillocks to pick tea leaves in this condition," said Mina. "My head spins from working long hours right under the sun. I get thirsty too." Luckily paniwala supplies drinking water in the garden, a service not available in many of the other gardens.
This scenario is common for pregnant tea workers in around 160 tea gardens of Sylhet and Chattogram in Bangladesh. Earning a living as a tea worker is hard enough as it is and for women, many additional problems make their lives even worse. With a majority of Hindus, the tea communities were brought to Bangladesh more than 150 years ago by the British from different parts of India. They comprise of around 80 different ethnic communities, each of which has unique cultures, languages, beliefs and surnames. However, fair wage, access to education and healthcare as well as proper living conditions have always been denied to the tea workers.
Their daily wage was recently increased to Tk102 after years of bargaining, which is still much lower than the wage of agricultural and other industrial labours. They are provided homestead in the labour lines but none of them own the land. They are provided ration but there are many irregularities in this case as well. The list of violation of labour laws and irregularities in the tea gardens is long and in some cases, the law itself is discriminatory towards them. Bangladesh Cha Sramik Union (BCSU), which is the sole trade union of the tea workers, still does not have the capacity to fight against all the violations. On top of that, few women representatives are active in the union to highlight the unique problems faced by the female workers.
For instance, tea workers get maternity leave of four months but usually they take the leave after childbirth, which can have severe consequences as they work in hilly remote tea gardens. It is common for pregnant tea workers to work even till the day of delivery. In extreme cases, some give birth while working in the tea gardens and others give birth in labour lines before they can be taken to an upazila health complex or hospitals, which are usually situated far away. In addition, decent healthcare is not accessible to most of the tea workers. As a consequence, maternal and child mortality rate is higher in the tea gardens in comparison to the rest of the country where it has significantly declined in the recent past. In the case of Mina Tati, she will work till the day of delivery because she needs the daily wage.
When asked to describe her daily life, Mina Tati said that she has to walk up to 10 kilometres a day to reach and come back from the section where she picks tea leaf. She gets no rest when she is at home too. She does all the household chores starting from cooking, cleaning, washing clothes to smearing mud on the floor. She cooks for others but she herself cannot afford to eat the nutritious food necessary for a pregnant woman. She gets to eat fish twice a week and if she is lucky, she can eat meat twice a month.
Malnutrition among tea worker mothers and their children is another major problem in the tea gardens. "For lunch I eat smashed potatoes and roti in the garden. I have lost my appetite and cannot eat rice and the usual food. If I could afford better food maybe then I could have eaten more," said the scrawny 22-year old mother. She is the daughter of the president of panchayet committee in Hossainabad garden, which is the garden-level committee of their trade union. If this is her condition then it is not difficult to imagine the situation of tea worker mothers who have even less access to resources.
---
---