Minimum wage board for tea workers a must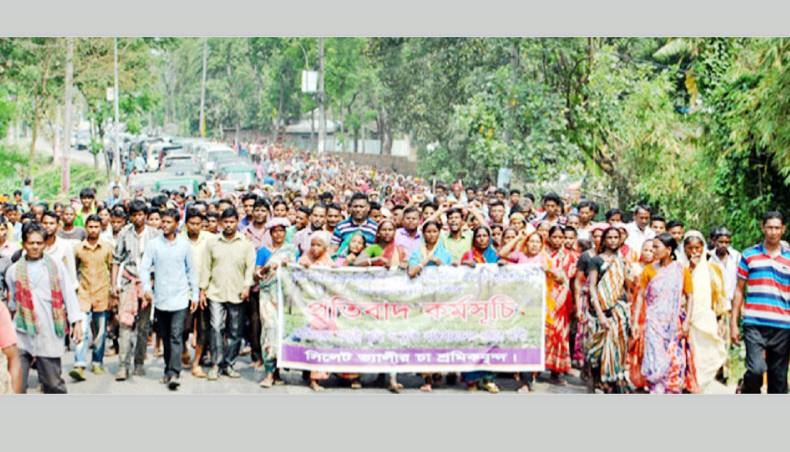 (bangladeshasf.org)
A LIFE with dignity remains a far cry for tea-garden workers. During the British colonial period, they were brought to Sylhet to work as day labourers, but treated as mere slaves. In the independent Bangladesh, successive governments have showed little interest in changing their lives. At least 1.22 lakh workers in 229 tea gardens of the country are among the lowest paid monthly wage workers. A Transparency International, Bangladesh report shows that 90.6 per cent of the workers' families still share a single room with domestic animals. They do not have proper access to safe water, electricity or health care. The research also finds that 11.6 per cent of permanent workers were left out of the provident-fund facility while only 7 out of the 64 gardens had daycare centres for workers' children. Transparency International has said that this is nothing but a new form of slavery.

Tea workers do not have a wage board overseeing the wage negotiations and a contract is used to decide the minimum wage. In 2017, on the expiry of contracts, the Tea Workers' Federation demanded their minimum daily wage of Tk 230, up from Tk 85. But their wage was set at Tk 3,060 a month. The Bangladesh Tea Association, however, argues that garden owners give employee benefits that supplement the wages. Rights activists term this benefit system a ploy to exploit workers. Food ration is provided for the worker's wife and children only up to 12 years of age. If the tea picker is female, which is mostly the case, the husband is not given a rice ration as he is not considered a dependant. If workers miss a day of work, they lose a kilogram of rice ration.

The government, therefore, must take initiatives to protect the rights of tea workers. In doing so, it must scrap the colonial regime that shields garden owners and allow them to exploit workers. The labour law must be revisited to ensure that tea workers have the right to negotiate their minimum wage and minimum wage board should be formed to regularly review wages for tea workers.
90.6pc workers share one-room shelter with domestic animals
A Transparency International Bangladesh study found that 90.6 per cent tea garden workers' families share single room shelters with their domestic animals.

The law makes it obligatory for the tea planters to provide proper shelter to the workers' families free of charge.

On Tuesday, TIB unveiled the report on 'Working Conditions at Tea Gardens and Labour Rights: How to Overcome the Challenges to Good Governance' at its office in the capital.
On interview of 1,911 permanent workers of 64 tea gardens, TIB found that the workers were paid low wages for which they cannot afford their minimum needs for sustenance including healthcare and children's education.

At least 1.22 lakh workers serving 229 tea gardens of the country are among the lowest paid monthly wage of Tk 5,231.

During the year-long survey from August 2017 to August 2018, TIB researchers Dipu Roy, Golam Mostafa and Rabiul Islam found that 64 tea gardens never confirmed their temporary workers as permanent workers in violation of the labour law.

Though the labour law requires conforming temporary workers as permanent workers after they put in three months' service, 94.4 per cent workers of these gardens were confirmed after they put in six years' service.

 19.3 per cent of the workers were still temporary worker though they put in 40 years' service.

TIB executive director Iftekharuzzaman said that tea garden workers' rights were violated as government agencies did not monitor the working conditions in the tea gardens.
At least 68.9 per cent of the workers said that the ration provided by the authorities was far from sufficient.
Tea garden workers in Bangladesh demand Tk 300 as daily minimum wage
Tea garden workers' organisations on Saturday demanded immediate implementation of six-point demand, including daily minimum wage of Tk 300.
They made the demands from a rally after forming a human chain in front of the Central Shaeed Minar in Sylhet city in the afternoon.

Bishwabidyalaya Cha Chhatra Sangsad, a platform of the tea garden workers' children studying at different universities in the country, arranged the programme to press home their demands.
People of cross sections in the society also attended the human chain programme extending their support to the demands.

Speakers at the rally said that Tk 102 as daily minimum wage for tea workers was unacceptable and they demanded Tk 300 as minimum daily wage.

They also demanded weekly ration, government primary schools, healthcare facilities for the tea garden workers and their families.

They said they would go for tougher movement and they would boycott the ruling party in the upcoming general election if their demands were not met.

Bishwabidyalaya Cha Chhatra Sangsad president Raju Kurmi chaired the rally that was addressed, among others, by the district bar association former president EU Shahidul Islam, Sushasoner Jonno Nagorik district unit president Faruk Mahmud Chowdhury, lecturer Chittaranjan Rajbangshi, Karitas regional chief (education) Pius Nanowar and BCCS vice-president Debashish Zadab.

Frontrunners of different LOCALs organisations & BASF of the tea garden workers were present at the programme.
---
---