Businesses suffer for truck strike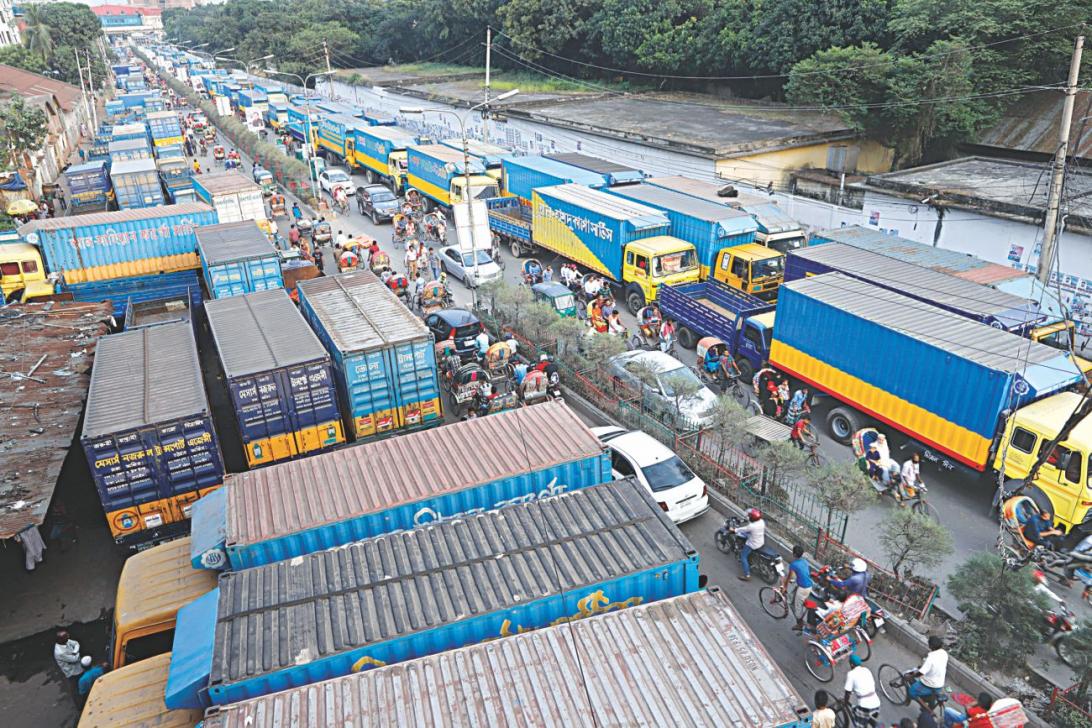 Parked trucks occupy more than half of both sides of a street in the capital's Tejgaon yesterday, obstructing traffic movement. Truck owners and transport workers enforced a nationwide strike for the second straight day yesterday to press home their seven-point demand, including changes to the Road Transport Act 2018. Photo: Prabir Das
BASF report
"If there is a State, there must be the domination of one class by another and, as a result, slavery; the State without slavery is unthinkable – and this is why we are the enemies of the State."
-Statism and Anarchy, 1873
Truck-owners and drivers continued their work abstention for the second day yesterday, dealing a blow to businesses and affecting the supply chain of goods to the capital.
No trucks left Dhaka yesterday while many from different districts remained off the streets, transport leaders said.
Faruque Hassan, vice-president of Bangladesh Garment Manufacturers and Exporters Association (BGMEA), said they had been suffering because of the strike and the impact would increase unless the strike was withdrawn immediately.
"We are having problems already. We are not getting trucks for transporting our products meant for export and import," he told The Daily Star yesterday.
However, leaders of truck owners and workers last night decided to relax their indefinite work abstention and agreed to carry garments products and perishables.
They took the decision following a meeting with Home Minister Asaduzzaman Khan at his Dhanmondi residence as he gave assurances to meet their demands, Mokbul Ahmed, convener of Bangladesh Goods Transport Owners Workers United Council, the organisation that called the strike, told The Daily Star last night.
They will hold another meeting with the home minister today at 2:00pm and will take a decision regarding the withdrawal of their work abstention, he added.
The work abstention was announced on Sunday to press home the organisation's seven-point demand, including making changes to the Road Transport Act-2018.
Parliament on September 19 passed the Road Transport Act amid criticism over lenient punishments for deaths caused by reckless driving.
One of the key demands made by the council was that truck owners and drivers would not accept death penalty as drivers "don't drive to kill people".
Other demands include unconditional release of all staffers arrested in connection with crashes, issuing proper driver's licence to all drivers of heavy vehicles and allowing drivers to drive trucks with light vehicles' driving licence until they are issued the one for heavy vehicles; ending police harassment and setting up truck terminals and stands at suitable locations with necessary facilities.
BUSINESSES SUFFER
Apart from the strike, there have also been allegations of some transport workers preventing free movement of vehicles on roads and truckers charging higher than usual fares.
Faruque Hassan, the VP of BGMEA, alleged that when they used company vehicles to transport products, some transport workers intercepted those.
"Two of my company vehicles came under attack at Cherag Ali in Tongi yesterday," he added.
"We are worried. Our production has been hampered and we are failing to send our consignment," he said, adding that they have already raised their concern with the road transport and bridges minister.
Meanwhile, cashing in on the work abstention, truckers are charging more than the usual fares, several whole sellers of Karwan Bazar, largest kitchen market in Dhaka city claimed.
Babul Miah, proprietor of Bikrampur Bhander, said he hired a truck at Tk 17,000 to carry potatoes from Rajshahi. The cost was Tk 1,500 higher than the usual fare.
"At first, the truck drivers refused to carry goods citing the 'strike but later agreed at a higher fare," he said.
Another vegetable trader, Md Masud, said he usually hired a pick-up van at Tk 2,200 to carry goods from Gazipur but yesterday he had to hire the same pick-up van at Tk 3,000.
The cost of food and vegetable may rise to reflect the rising cost, the traders at Karwan Bazar added.
WORKS ABSTENTION ON
Visiting the truck stands at Tejgaon, Aminbazar and Mohammadpur Beribadh, this correspondent saw trucks parked there with many drivers and helpers sitting idle.
"We have 1,987 members and more than 200 new drivers are waiting to get membership. All of us are observing work abstention. So, no truck has left from here," Manik Miah, treasurer of Aminbazar Branch of Bangladesh Inter-district Truck Drivers Union, said.
Mokbul said their work abstention would continue until their demands are met.
Although, the work abstention was announced for Dhaka division, truck owners and workers from other districts including Bogura, Naogaon, Rajshahi, Feni and Rangpur did not operate their vehicles in solidarity, he added.
Mokbul said the president of BGMEA had already talked with them as trucks were an integral part of the garments industry's supply chain. "We are ready to talk with the government," he added.
---
---